The Ultimate Guide To Parking And Backing Up Your RV Safely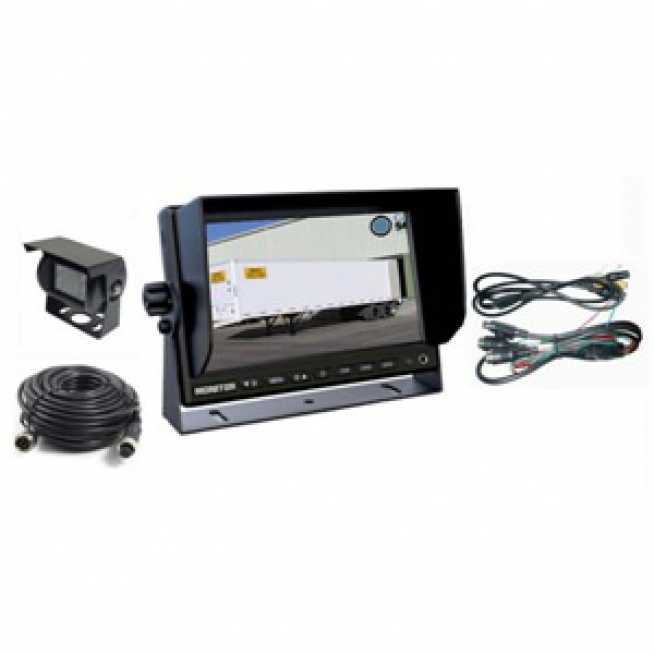 There's nothing quite like the RV lifestyle but making sure you can park and safely back up your RV is a must.
Traveling by RV offers more independence and a greater sense of community than simply hopping on a plane or hotel-hopping in a car. If you can't settle on a single destination, the open road is yours to explore. However, don't forget about the responsibility of driving your RV safely and sharing the road with others. It's not the same as driving a car, truck, or even a large SUV, especially when it comes to backing up and parking.
RVs may seem easy to drive, especially if you expect pleasant weather and paved roads. However, even if you have a lightweight RV that doesn't have a trailer or require any special licenses, it's important to have driving skills and safe equipment before you get behind the wheel of such a powerful machine. RVs can do serious damage to other vehicles, pedestrians, and property, so be sure to practice your backing up and parking skills before taking your favorite retreat on the road.
Fortunately, there are five key tips that will come in handy as you navigate your vehicle on your next adventure.
Tip #1: Use Your Mirrors
You don't have the benefit of a long rear-view mirror – or a rear windshield to point it toward, for that matter – but you do still have two side mirrors. These important mirrors prevent potential blind spots and give you more visibility as you back up. You can also point them to cover areas that a backup camera or backward glance cannot. Make sure your side mirrors are angled to show the sides and rear bumper of your RV, or your trailer and any vehicle you're towing behind you.
Tip #2: Install a Back-Up Camera
Rear-view camera technology is so effective at preventing rear collisions that the National Highway Traffic Safety Administration (NHTSA) will require it in all new personal vehicles by 2018. RVs aren't affected by this new rule and don't often come with cameras, but they also have larger blind spots and more powerful engines than most personal vehicles.
It's a wise choice to explore aftermarket RV backup cameras and install one to bridge your blind spot. Just make sure you choose the right backup camera for your RV, and don't rely on the screen alone to see obstacles behind you.
Tip #3: Use a Spotter
Your side mirrors and backup camera can only provide so much visibility of the road beside and behind you. Because your RV is a big, bulky machine that blocks a lot of your view from the driver's seat, it's important to have at least one volunteer who can guide you.
They can help protect your air conditioner and other valuable equipment that sticks out, while saving you from striking or rolling over anyone or anything. Make sure both of you know proper RV hand signals, including the signals for "stop" and "turn the wheel this way." Click here for the list of hand signals you can memorize.
Be sure to keep your spotter visible in a mirror and stop the moment you lose sight of them.
Tip #4: Level Your RV
If you're staying put, you'll need to level and stabilize your RV to make sure it doesn't sway in the wind and jostle your contents. Some RVs come with automatic leveling systems, so if you have this feature, make sure you keep the equipment well-maintained and learn exactly how to use it. If you don't have a leveling system, you'll need interlocking RV leveling blocks (or a stack of wooden boards) and a bubble level.
After you park the RV, use your bubble level to test the floor and any slide-outs, both from front to back and side to side. Next mark lines in front or back of each tire on the sides that need to be leveled, and pull your RV up to clear the lines. You'll use your blocks or boards to build ramps between these lines. Then pull your RV back into its original position, making sure the tires don't hang over the boards at all, and use the bubble level again. Repeat if the floors still aren't level.
Tip #5: Stabilize Your RV
After the floors are level, set the transmission to park, apply the parking brake, and get out the stabilizing jacks. Stabilizing your RV will prevent rocking as you move around inside it, and it's even easier than leveling it.
You just have to follow the manufacturer's instructions to lower and crank the jacks into place. Boards beneath each foot might provide helpful traction on sandy and unpaved campsites, and your bubble level will come in handy again as you make sure the RV is still level.
Master The Art of Parking and Backing Up Your RV
RV owners can benefit from having peace of mind during their adventures on the road. However, backup cameras and other safety technology is only effective if you know how to use it and stay aware of your surroundings.
Remember these five tips as you get to know your RV inside and out, including the safest ways to back it up and park it. The more confident you are about driving your RV safely, the more fun you will have traveling across the country in your home on wheels.
---
Chris Triplett is the president and founder of Camera Source, an online retailer of quality automotive, agriculture, commercial and RV camera systems that innovates new products that adapt to an ever changing OEM market.