Recreational Vehicles for Sale at Destination RV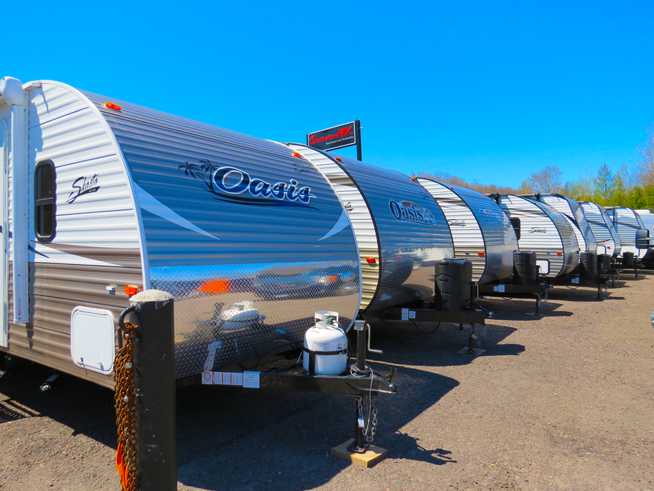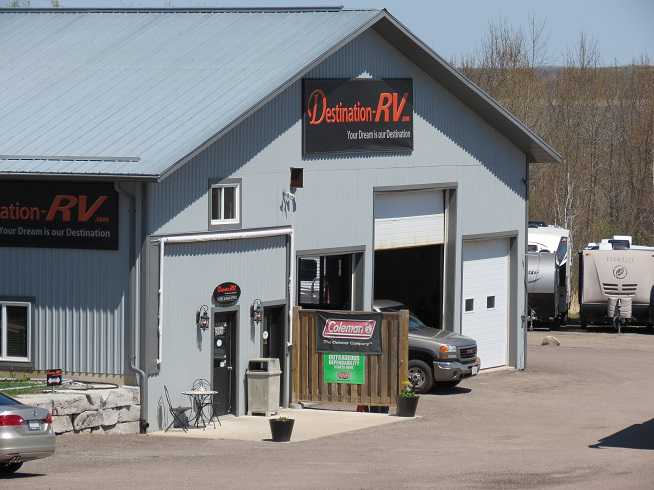 Destination RV is family owned and operated since 2011. Started from their own experiences RVing themselves, they decided to share those very experiences and help others into their new adventure. Located in "Lake Country" Destination RV has a newly renovated 3600 sq.ft office and service shop on a 5 acre property. This has given them the space needed to serve you with the highest quality and customer care. Destination RV is a full disclosure dealership, no hidden fees and no games. They also know that no one is perfect, but continue to do their best to focus and improve on service and parts. They know what works and what doesn't; honesty can be expected from them. Located an hour and half North of Toronto, Ontario and only 30 minutes north of Barrie Ontario, its location can serve the masses.
With a large selection of new and used inventory ranging from Fifth Wheel trailers, Travel Trailers, Hybrid/expandable trailers, Tent Trailers, and Park Models. Let's not forget the huge inventory of Cargo Trailers, Destination RV is the expert when it comes to fitting your lifestyle with the right unit. They carry a variety of respected RV Manufactures varying from Coleman, Denali (FW), Denali Lite (TT), Cherokee (TT), Cherokee (FW), Cherokee Destination (PM), Grey Wolf (TT), Grey Wolf (TH), Wolf Pup, Quicksilver (TT), Quicksilver VRV (TH), Camplite, Streamlite, Hideout, Bravo Trailers, Livin Lite RV, Forest River, Keystone RV, Dutchmen RV and Canada Trailers​.
As you can see Destination RV is committed to offering world class customer care and service. Not only with their physical location but online as well. They have recently launched a brand new website that is mobile ready. Giving customers access to their new and used inventory on PC's, tablets, and mobile devices. You now can shop their entire product line from anywhere and at any time. If you need to book a service appointment, have a question on a part, or you have a question about financing options, sending your questions via email through their many website forms has never been easier. Destination RV's fully functional website is there to help you make your next purchase.
Check out their testimonials to see what people are saying about their work and customer service.
This family is committed to you for years to come.
When I sat down to write this article I was instantly flooded with so many great topics to share with you all about this family and the company they've built. Whether it's Phil's drive to give you the best, or Cindy's wonderful charm and friendly personality, or Phil Jr's ability to service your unit on time and properly, and Blair's enthusiasm to find your dream on wheels. This family is committed to you for years to come.
This dealership goes above and beyond in their sales process. For example every customer who purchases a trailer receives the following;
12V DEEP CYCLE Interstate Battery (not a starting battery and/or cheap brand deep cycle with and thin lead sponge plates not lasting as long.)
Starter kit, comes with sewer hose, water hose, electrical adapter, toilet tissue, toilet chemical.
Purged and filled LP tanks
2-4 hour demonstration (pending size of trailer and customer questions). They go through the complete trailer in depth, this is not a 20-30 min walk-through and you're on the way. They demonstrate the operation of appliances, brake controller, towing, and discuss overall maintenance which helps prolong the trailer's quality and life.
When planning your next purchase make sure Destination RV is on your list of dealers to visit. They even participate in and host local events giving back and building relationships with their customers, how thoughtful!